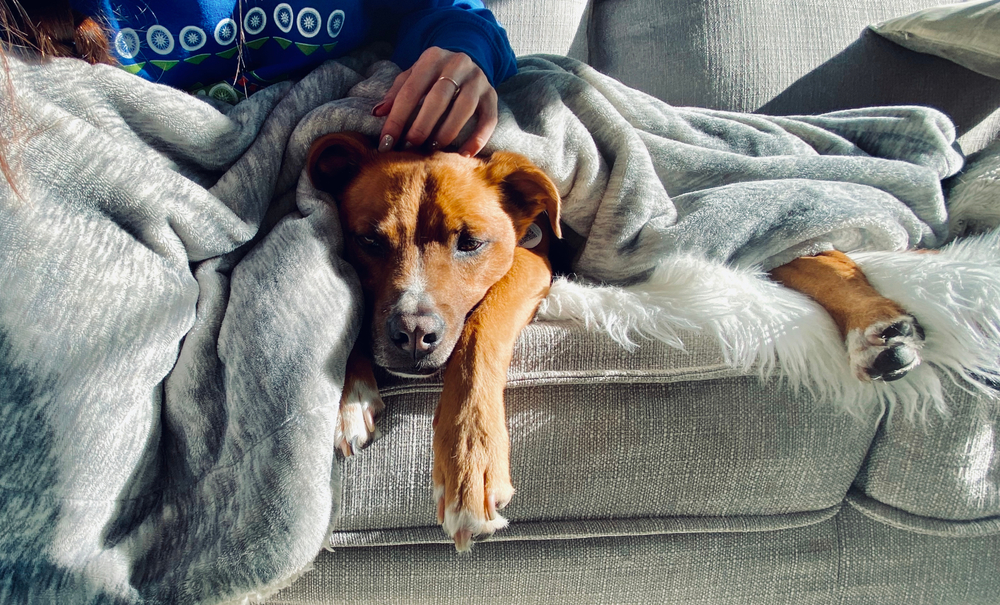 As devoted dog owners, we're always trying to give our canine companions the very best care and attention. However, like humans, dogs are susceptible to a range of ailments and illnesses. Among these is Addison's Disease, which can be frustrating, subtle, difficult to diagnose – and deadly. We will explore the nature of Addison's Disease, its symptoms, as well as potential treatment options.
TABLE OF CONTENT
What is Addison's Disease in Dogs?
Hypoadrenocorticism, commonly referred to as Addison's Disease, is a medical condition that arises when a dog's adrenal glands fail to generate adequate natural steroid hormones. These glands are responsible for producing vital hormones like aldosterone (which controls the body's salt balance and blood pressure) and cortisol (the "stress hormone" that helps us cope with inflammation and difficult situations).
Early Symptoms of Addison's Disease in Dogs
The early symptoms of Addison's Disease in dogs can be subtle and easily mistaken for other health conditions. Early symptoms of Addison's Disease in dogs tend to wax and wane – getting better, getting worse, and never quite showing how serious the condition is. They include:
Intermittent loss of appetite
Episodes of vomiting and diarrhoea
Sometimes, shivering, increased thirst and urination
Rarely, hair loss along the flanks can occur in dogs, but this is much more common in Cushing's Disease (too much steroid hormone) than in Addison's (too little).
They are often initially misdiagnosed as a sensitive stomach, indigestion, or a low-grade bowel infection, or even intestinal parasites. These symptoms may reoccur on and off for months or even years.
However, as the disease progresses, the symptoms become more apparent. Eventually, most dogs will suffer what is known as an "Addisonian Crisis". As the name suggests, this is a sudden and dramatic deterioration, typically with symptoms such as:
Muscle weakness
Dehydration
Low body temperature
Slow heart rate
Shock
Collapse
If not rapidly treated, dogs in an Addisonian Crisis will usually die, either from dehydration and shock, or from cardiac arrest due to the salt imbalance (hyperkalaemia).
If you notice any of these symptoms in your dog, it's essential to seek veterinary attention immediately.
How to Test for Addison's Disease in Dogs
In the event that your dog is suspected of having Addison's Disease, your vet will need to do a number of tests to confirm the diagnosis. A simple blood test (Na:K ratio test) run in the vet practice lab will usually be highly suspicious, but for a solid diagnosis, most vets will recommend an ACTH stimulation test to evaluate how their adrenal glands react to stimulation.
What are the Warning Signs of Addison's Disease in Dogs?
The warning signs of Addison's Disease you should watch out for are: decreased appetite, fatigue, hair loss, throwing up and diarrhoea. As the illness advances, these indications intensify and may result in an Addisonian crisis for your pet. If you observe any of these symptoms in your canine friend, it is critical to seek veterinary care without delay.
How to Treat Addison's Disease in Dogs
The treatment for Addison's Disease in dogs involves replacing the hormones that their adrenal glands are not producing. This typically involves giving your dog daily medication that contains synthetic steroid hormones. Your vet will best determine the appropriate dosage based on your dog's weight and individual needs.
It's essential to monitor your dog's condition closely and attend regular veterinary checkups to ensure that the dose is still effective and does not need adjusting.
Is Addison's Disease Genetic in Dogs?
Addison's Disease in dogs is not always genetic, but there is evidence suggesting some breeds may be more susceptible to the condition. These breeds include:
Standard Poodles
Portuguese Water Dogs
West Highland White Terriers
Great Danes
Bearded Collies
Being aware of the indications and manifestations of Addison's Disease and attending routine veterinary appointments is crucial if you own a dog from any of these breeds.
How Common is Addison's Disease in Dogs?
Addison's disease is a relatively rare condition in dogs. It is estimated that the incidence of Addison's disease in dogs affects around one in every 500 to 1,000 dogs. The condition is more common in young to middle-aged female dogs, but it can occur in dogs of any breed, age, and gender.
How Long Can a Dog Live with Addison's Disease?
With proper treatment and management, dogs with Addison's disease can lead long and happy lives. Early diagnosis and appropriate treatment are crucial for ensuring the best possible outcome. Regular vet check-ups and monitoring of the dog's condition are important to ensure that the disease is under control and if necessary adjustments to the treatment plan should be made.
With modern medication and good monitoring care, the prognosis is excellent and many affected dogs live out a normal life.
However, if not addressed early, the disease can be life-threatening if left untreated. Caring for a dog with Addison's disease can require time, dedication, and resources.
When to Consider Gentle At-Home Euthanasia for a Dog with Addison's Disease
It is a difficult decision to make, but some signs that it may be time to consider euthanasia for a dog with Addison's Disease include:
They are experiencing unmanageable pain or discomfort.
Your dog is no longer able to enjoy their favourite activities.
The dog is losing weight or muscle mass despite appropriate treatment.
They suffer from frequent and severe Addisonian crises.
It is never an easy decision to make, but when euthanasia is the best option for a dog with Addison's disease, at-home euthanasia can provide a peaceful and comfortable transition for the dog in the comfort of their own home, surrounded by their loved ones. Cloud 9 Vets offer at-home euthanasia services that can help guide pet owners through this difficult process with compassion and understanding.
Sources: 
American Kennel Club:

Addison's Disease in Dogs

 
Merck Veterinary Manual:

Addison's Disease in Dogs

 
Veterinary Partner:

Canine Addison's Disease