Cloud9 Vets – Compassionate and dignified pet euthanasia at home. We want to proudly announce that we have been featured in Vet Times.
Caroline Hewson, compassionate vet and end-of-life specialist, is commenting on the concept, following the launch of our company. Read on to find out what she has to say about compassionate and dignified end of life care.
Here is also the full story from the 20 November issue of Veterinary Times.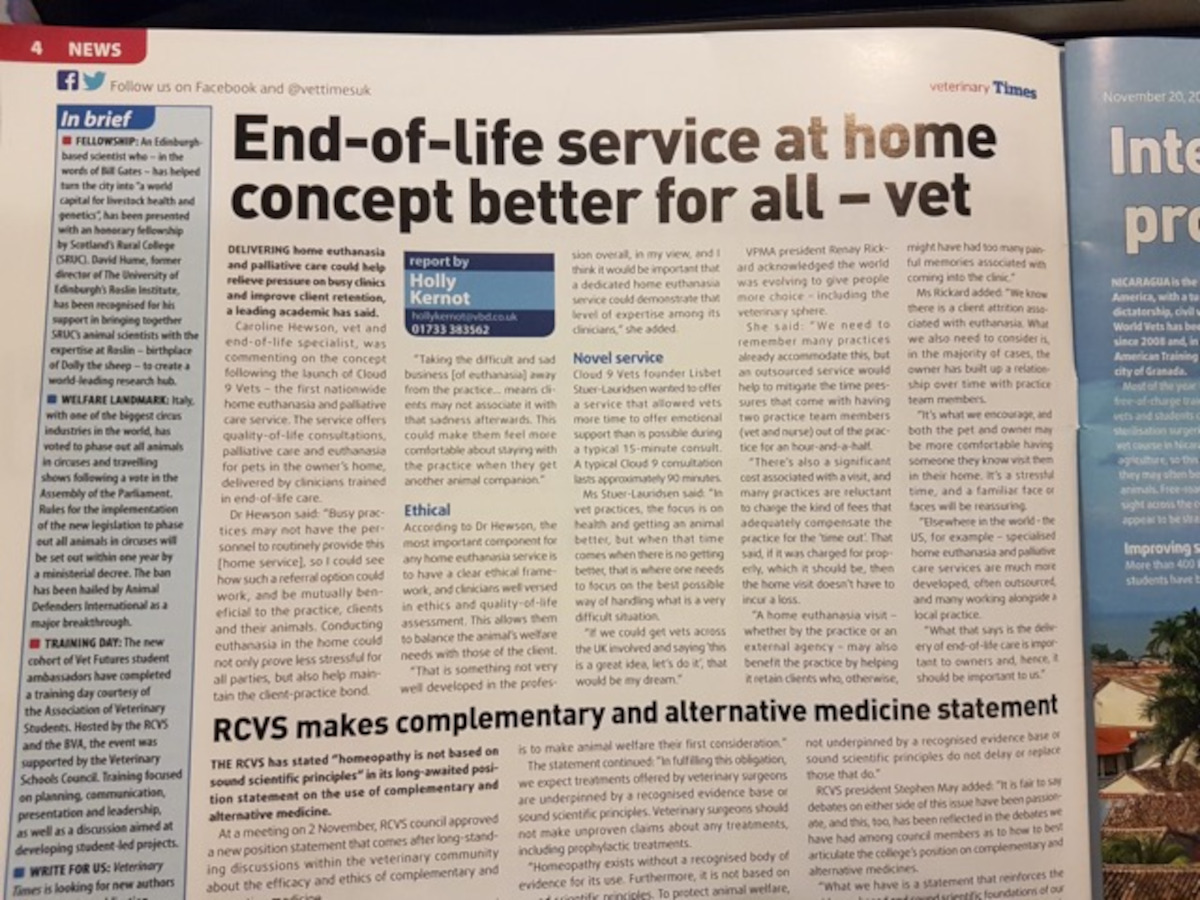 Key Points From The Article
Key points from this Veterinary Times article incude the following:
Offering pets and their families the most peaceful goodbye.
Compassion and care at the end of your pets life.
Providing peaceful and gentle end of life.
For a peaceful and dignified end of life.
Care and support when you need it the most.
Loving and focused end of life care.
Compassion and care for a peaceful goodbye.
A gentle farewell for you and your pet.
Providing the most peaceful passing for pets.
The most compassionate pet farewell.
Cloud 9 Vets provide a small range of in-home veterinary services allowing you to support and enjoy your pet in the best possible way. Ensuring he or she are living a comfortable life, or let us help you decide if it is time to let them go or if more can be done keep them happy a bit longer.
Whether you need a home consultation with a Vet, or dignified cremation for your dog, cat, rabbit, or other beloved pet, get in touch with us and discuss how we can be there to help you without stress at home.
Request a Callback or Send us an E-mail
As animal lovers ourselves who have lost pets of our own – we know that this emotional decision can be extremely difficult to make. Feel free to e-mail us via the form below or Call Our Care Coordinators for No Obligation Advice over the Phone.
For appointments today or tomorrow, please call us.
Cloud9 Vets – compassionate, peaceful, and dignified end of life for your pet.